Monday

Closed

Tuesday

10:00 AM

6:00 PM

Wednesday

10:00 AM

6:00 PM

Thursday

10:00 AM

6:00 PM

Friday

10:00 AM

6:00 PM

Saturday

9:00 AM

5:00 PM

Sunday

Closed
Living at 1500 Mass
Central to Dupont Circle, Logan Circle and the Golden Triangle neighborhoods, 1500 Mass Apartments presents the complete Washington D.C. residential experience. Restaurants, shopping and the vibrant cultural destinations of this city are just moments from your doorstep. Inside, these newly renovated homes are equipped with beautiful finishes and Energy-Star appliances, all of which complement the large windows that showcase the incredible views. Work out in the new fitness center before heading up to the gorgeous rooftop deck, all while knowing that there's no better place to call home.

All Utilities Included

Short Walk to Dupont Circle, Logan Circle and Golden Triangle

Fitness Center with Yoga Studio
Apartment Amenities
Open-concept Kitchen
Large Bathroom with Dressing Room
Walk-in Closets
Hard Surface Flooring
Views of the White House Available
Dupont Circle
1500 Mass Apartments can be found within Dupont Circle, anchored by the Dupont Circle Fountain. This neighborhood hub is one of the most famous landmarks in D.C. and the site of many residents' recreational activities, whether that is sitting outside reading, sipping locally brewed coffee on the surrounding benches, or walking dogs around the fountain. Venturing away from the landmark, you'll find a bounty of great restaurants, wine bars, art galleries, museums and landmarks, and eclectic local shops, making Dupont Circle an exciting, hip place to call home. Visit our D.C. neighborhood today and see what makes Dupont Circle such a fabulous place to live!
Our Availability and Pricing
Pricing and floor plan images below are subject to change.
We will not refuse to lease an apartment to a person because they will be using a payment voucher for rental assistance provided by the District of Columbia or federal government.
Your selections above returned no available apartments!
Please choose different values above or reset to default values.
Reset Selections
$2,050 12 mo
1 Bed / 1 Bath
540 sq.ft. / Lobby Level
Available 11/3/2022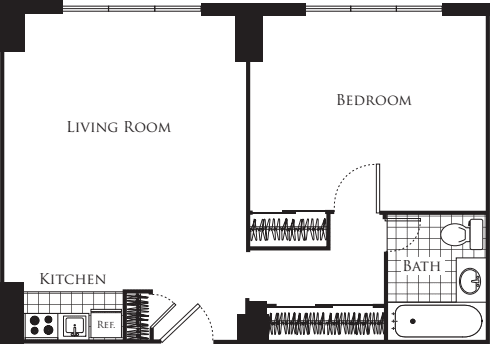 Northern Exposure
Upgraded Kitchen Features
Utilities Paid by Mgmt
$2,890 12 mo
1 Bed / 1 Bath
729 sq.ft. / Floor 4
Available 10/13/2022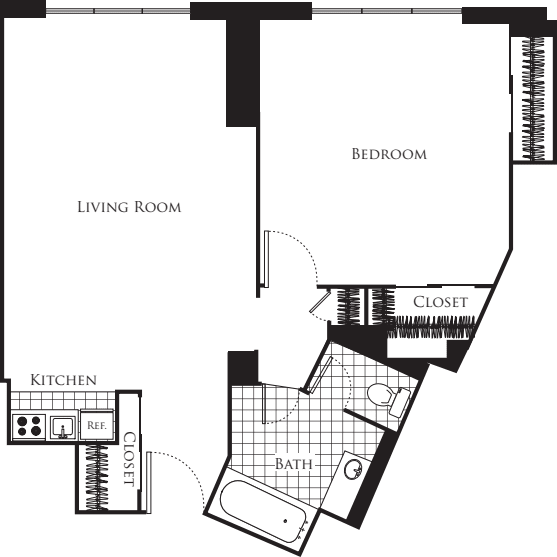 Southern Exposure
Upgraded Kitchen Features
Utilities Paid by Mgmt
$2,907 12 mo
1 Bed / 1 Bath
663 sq.ft. / Floor 6
Available 9/28/2022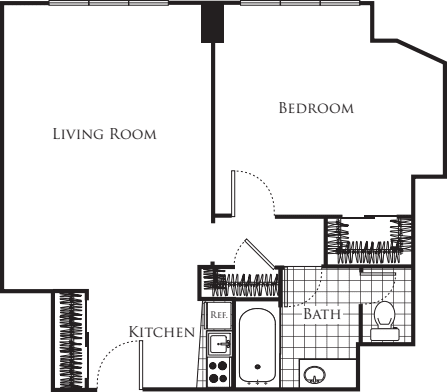 Southern Exposure
Upgraded Kitchen Features
Utilities Paid by Mgmt
Walk-in Closet
Resident Reviews
4.1 / 5 based on reviews from actual residents and their experience living with us.
Tanay G.

Leasing Team

D'Charnae T.

Leasing Team

Maureen D.

Leasing Team
Tacoya D.

Leasing Team

Tyrone W.

Service Team

Osman K.

Service Team
Aaron A.

Service Team

Jose M.

Service Team

Dorothy C.

Leasing Team
Kimberlee B.

Leasing Team

Madeleine M.

Leasing Team

Monica G.

Leasing Team
Resident Benefits
Our passion is to provide great lifestyles in places people most want to live, work and play.
A place you can be yourself and retreat from the stress of the day. A welcome home where you can connect with old friends and make new ones. Our resident benefits are designed to make this possible.

Satisfaction Guarantee
We are confident you'll love your new home - but if you choose to leave in the first 30 days, you will only pay for the days you've stayed.

Easy Online Payments
Pay rent through our resident-only portal to keep things moving wherever you are.

Know Your Neighbors
Create your own profile to share with your neighbors on our resident-only website.

A Friend's Presence is a Present Itself
Refer your friends to an Equity community and get rewarded with a gift from us.

Zipcar
Our connection with Zipcar gets you a special discount, plus $50 in free miles.

Furniture in a Flash
You are automatically approved with Cort Furniture. Plus enjoy 25% off your first month.

Transfer Program
We'll help you find another Equity home you love when it's time to make a move.

Rent With Equity
Earn credits each month and apply them to the purchase of a house one day.

Protect the stuff you love. We offer our residents access to a unique set of coverage options.
Making Individual Living Enhancements
Equity Residential is committed to working with our residents with disabilities to enhance their living environment.
Like the Washington DC Lifestyle?
We have 4 more communities in the Washington DC area to choose from.